[Hiking] Cueva de los naturalistas
This volcanic tube, also known as Cueva de Las Palomas, was passed through the pahoehoe lava flows that took place between 1730 and 1736, which correspond to the last phases of the Timanfaya eruption.
The formation of the tube comes from changes in the volume of the tube in the active period. We know the orientation of the had because it has been mapped by cavers. The cave is oriented northwest-southeast and extends just over a mile, exactly 1640 meters.
The tube of the 'Cave of naturalists' is characterized by a high degree of conservation since it is a catalog of all the characteristic morphologies in this type of caves, for example the cornices, the central columns, the lava platforms or the stafilites , those that have the best conservation of the Canary Islands. The cave has several galleries that are divided between jameos and roof collapses.
The 'Cave of the Naturalists' is an LIG (Geological Interest Site) because of its vulcanological and geomorphological importance. In addition, it also has speleological interest. It is part of the 'Timanfaya National Park'.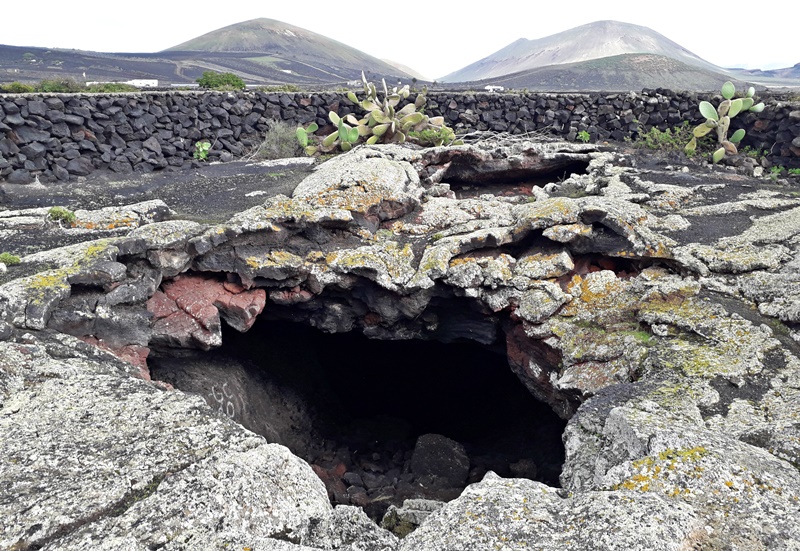 How to get there h3>
The 'Cave of naturalists' or 'de las Palomas' has two mouths. The excursion determines the entrance by one and the exit by another. We recommend starting the journey through the mouth number 2. The easiest way to get to this point is to go to the town of Masdache and once instead take the LZ-58 in the direction of La Vegueta. Approximately 2.2 kilometers away, on the right hand side, on whose shoulder you can park the vehicle. The entrance to the 'Cave of naturalists' is found around the wall of the farm on the right side.
Duration h3>
To travel the volcanic tube does not take more than 30 minutes.
WARNING: here it is necessary to point out that if you make the journey starting with the mouth nº2, the trajectory of the cave, once introduced in it, makes a 180º turn to the left. If we go straight on, we will find a collapse that will prevent us from continuing on the road, forcing us to go back until we reach the exit where the true path will be seen.
Difficulty h3>
Low
Recommendations h3>
Wear appropriate footwear for walking on uneven terrain. The use of flashlights is indispensable. Take the necessary care not to damage the stafilites. When leaving the cavity you will be in the area of ​​badlands, you have to be careful not to step on lichens on the return to the vehicle.