A sculpture pays tribute to the arrival of water in the south of Lanzarote
From this Monday a new sculpture placed in a historical place of Tías is visible where half a century ago the great cistern was constructed that supplied water to the rural population of this municipality, who lived on agriculture and where even tourism was in embryo .
In Lanzarote, during the first half of the 20th century, the hydraulic installations of the galleries of Famara (in the north of Lanzarote) that supplied water to the capital Arrecife were put into operation. But, in the south of the island, the shortage of water forced the population to emigrate to the hutch capital.
Then, the construction of a hydraulic facility to supply rainwater to the resident population in the south of the island was started, with Tías as the main town in the southern region of Lanzarote. At the end of the year 1968, the work of canalization of the waters coming from the holes drilled almost on the top of Montaña Blanca and deposited in a large well built on the current Central Avenue of Tías would be completed.
This hydraulic work, with the few machinery and resources for that time, was an important milestone in the rural history of Tías. A year before, the first hotel in La Tiñosa (origin of Puerto del Carmen) had been built, but even the channeled water was not present or even reached the southern region of Lanzarote.
The work and the author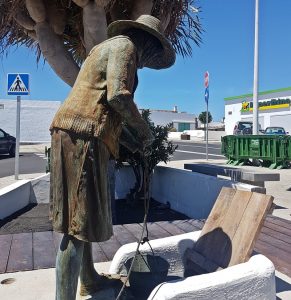 The work of the sculptor born in Tías Julián Bermúdez Mesa recreates in a sculpture this symbolism of the arrival of water to Tías, just when the 50th anniversary of that important milestone is commemorated. After several months of work, Bermúdez Mesa has delivered to the City Council his sculpture – where he recreates a real peasant from Tías, guiding water – which since this week is exhibited at the same site where the large cistern that supplied water is located in its subsoil of rain to the local population.
Julián Bermúdez, who finished his sculpture studies at the Pancho Lasso School of Art in Lanzarote, was part of the team of artists that under the direction of the British sculptor Jason deCaires, made the figures of the Atlantic Museum in the waters of Papagayo, in the south of Lanzarote. For five years Bermúdez Mesa has lived in England where he works with the multidisciplinary team of Jason deCaires for his artistic works present in many parts of the world.
For the sculpture tribute to the Culture of Water, Julián Bermúdez noticed a real peasant living in the village of La Asomada to make a real size mold for her new artistic work. The sculpture, with mixed technique, has been executed in cold function. The work recreates this rural, peasant woman, guindando water from the cistern with a bucket tied to a rope.